A Little About Us
Welcome J&J Truck and Trailer Repair, Inc, a full-service truck and trailer repair and towing company. We're the first company Detroit and Wayne County drivers call when they're in need of roadside assistance!

There's nothing more horrifying than realizing you're stranded on the side of the road. Whether your tires have blown out, your engine has seized, you've been involved in a fender bender – or any other problem has disabled your vehicle, you need a towing service you can count on to act fast! J&J Truck and Trailer Repair, Inc is the fastest, most reliable Detroit towing company. For years, we've been the leading provider of emergency roadside assistance. Offering complete towing services, our highly trained technicians have the experience you can count on to get you out of a jam fast!

Fast, Reliable, and Affordable 24/7Emergency Roadside Assistance

You can run into trouble any time of the day or night. When you do, you need fast, reliable roadside assistance that you can count on to be there for you. Whether it's late at night, the wee hours of the morning, in the middle of the rush hour commute, or on a holiday, J&J Truck and Trailer Repair, Inc will have a tow truck at your location in no time.

While other tow truck companies might say they offer emergency services, in reality, their hours and days of operation may be limited, leaving you stranded when you need them. A J&J Truck and Trailer Repair, Inc, when we say emergency roadside assistance, we really mean it! Our technicians are on-call 24 hours a day, 7 days a week, 365 days a year and are always ready and waiting to assist you. The moment you call us, we'll immediately deploy a truck to your location, and in most cases, help will arrive in just minutes. We address emergencies with a sense of urgency that you just can't find anywhere else.

Our drivers do more than just lift and tow; as ASE certified truck master technicians, they'll also perform an inspection of your vehicle and do whatever they can to get it back up and running. Sometimes, you don't need a tow; all you need is a tire change, a jump, or some coolant in your engine. We'll take a look at your truck to determine if a quick fix will do the trick. Of course, if your vehicle can't be driven, we'll tow it to our repair shop or any location you specify. Just let us know where you want your truck to go and we'll make sure it gets there safely.
With J&J Truck and Trailer Repair, we do more than deliver the fastest response times; we also offer competitive rates. Weekends, late nights, early mornings, holidays; our rates are always the same!
Incomparable Maintenance and Repair Service

J&J Truck and Trailer Repair, Inc is more than a towing service; we're also a full-scale vehicle repair company. We employ a team of ASE certified master mechanics who deliver fast, efficient repair services. Whether your truck is stranded on the side of the road because of a mechanical failure or you're having trouble when you're off the road, you can count on our mechanics to make the necessary repairs you need to get your vehicle back up and running in no time.
At J&J Truck and Trailer Repair, Inc, we can address any problem your vehicle may be having, with our maintenance and repair services, which include:
· Brake repair and service
· Engine repair and maintenance
· Transmission repair and maintenance
· Oil changes
· Tire rotation, balancing, and replacement
· Refrigeration maintenance and repair (including Thermo-King and Carrier)

In addition to maintaining and repairing your truck and/or trailer, we can also make sure that your rig is in tip-top condition with the following services:

· Truck and trailer inspection
· Welding
· Pressure washing
And so much more! We even offer cross dock and load transfers, as well as commercial truck and trailer parking.


When it comes to the maintenance and repair of your truck and trailer, you can be sure that your rig will be in the very best of care at J&J Truck and Trailer Repair, Inc.

Don't Bother with the Rest; Trust Your Truck to the Best!

Whether you're stranded and need roadside emergency assistance or you're rig needs to be maintained or repaired, don't bother with the rest; trust your truck to the best! No other company can compare to the fast services, reliable results, and affordable rates that you'll find at J&J Truck and Trailer Repair, Inc!

"We specialize in the impossible and looking for better excellence to serve you"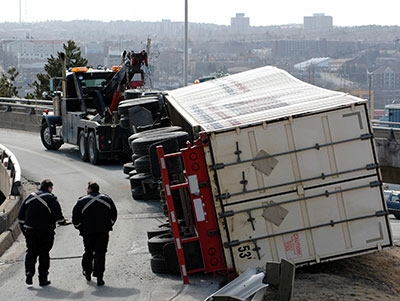 Contact Us
Contact J&J Truck And Trailer Repair, day or night via our online contact form and we will get back to you within twenty four hours.
---
Call us (888) 535-8937
Mail: trucksaver@yahoo.com
---